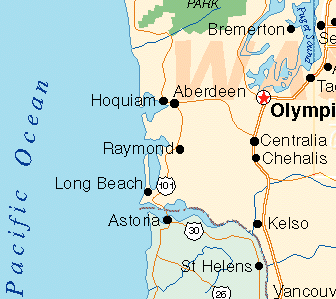 Hoquiam is a small town of approximately 9000 located on the Pacific Coast in Grays Harbor County, Washington. The city was incorporated in 1890, about 40 years after the first settlers arrived. 
 Many of the early settlers were drawn to this area by excellent fishing.  They focused their efforts on plentiful salmon — Mostly King, Silver, Blueback, and Steelhead.
Grays Harbor, with its abundant timber resources in close proximity to shipping lanes, began to draw the interest of lumber barons from all over the Country.  Timber harvest and milling processes dictated the area economy for many early years. 
While timber and fishing have played an important role in the city's history, the economic focus is currently shifting towards tourism and ocean commerce
Hoquiam, which in the local Indian dialect means  " hungry for wood",  is just a short drive away from the Ocean beaches and the Olympic National Park and Rain Forest.